A magazine where the digital world meets the real world.
On the web
In print
What is cs4fn?
Search:
cs4fn Annual+: Issue 2
ISSN 1756-1868 (Print)
ISSN 1756-1876 (Online)
The second issue of the cs4fn annual focusses on female computer scientists and electronic engineers: those that shaped the subject, current leaders of the field and students. It combines some of the best of the first five years of the magazine with the best of the web as well as some all new articles. Every article is about the work of women. A pdf version is available for download.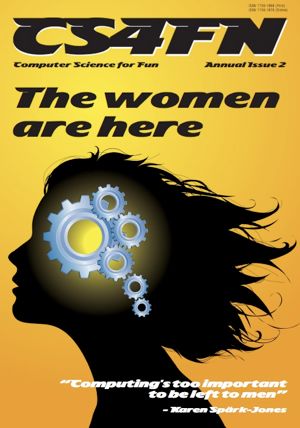 Too important to be left to men
The woman of the future
A gendered timeline of technology
Using the Dark Side
How to win love by not playing it cool
Predicting Cancer Cures
The pen, the paper and the poet's daughter
Frankenstein's monster
Cognitive crash dummies
Sorry to bug you
The Multi-Million Pound Greeting
Future Friendly
Power Play
As easy as a bee sees
Plague!
The optical pony express
Setting the bits free
Synthetic Speech
Saving Bletchley Park
My First Signs
Juggling Priorities
Killer robot? Evil scientist?! Helpless woman?!?
The real pros
Knitters and coders
Smart Translation
Rebel with a cause
Die another day
If you go down to the woods...
Engaging and Exciting Computing
Byzantine birthdays
Lucky History
Cold Hard Complexity: Learning to talk in nature's language
Under Pressure
Making sense of squishiness
Arabesque art
Playing the weighting game
Inspiring Wendy Hall
Sisters are doin' it for themselves
Saving the Iberian Lynx
Don't press that button
How a computer scientist organised her wedding
Proof without words
Designing an innovative radio
Out of this world