A magazine where the digital world meets the real world.
On the web
In print
What is cs4fn?
Search:
Engaging and Exciting Computing: Interview with Yvonne Rogers
Yvonne Rogers a Professor in Human Computer Interaction at the Open University has a new vision of the future of Ubiquitous computing - computing everywhere. She doesn't want computers to just disappear into the infrastructure but has a vision of exciting and engaging computing livening up our everyday lives. She gave cs4fn an exclusive interview...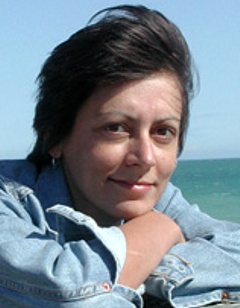 What's been your favourite project to work on and why?
Ambient Wood. It was so novel at the time and everyone working on it was really energized by what the new technologies could be designed to do. We felt like pioneers.
Woods don't seem the most obvious place to find computer technology - Why woods?
One of my former colleagues had just bought woodland near to where he lived in Brighton for him and his family to relax in. At the time his wife was only using it to do yoga in and so we asked him whether he would mind if we could wire up his woods to enable children to visit them and have a field trip with a difference. He was delighted with the prospect and gave us free range. That is when we started to think about how you would place computers throughout the woods to get children thinking, talking about and reflecting about the world around them in quite different ways.
What did you think was the most important thing the participants got out of the ambient wood?
A sense of wonderment at finding out all sorts of things and making connections through discovering aspects of the physical woodland (e.g., squirrel's droppings, blackberries, thistles) and being able to access digital information (e.g. sounds, images, data) via the various pervasive computers we provided for them. Also a sense of intrigue as to how we had set up the various technologies and how they worked together. When exploring different parts of the woods they were really excited to come across laptops hidden in trees and aerials dangling from the branches. The kids also tried to fathom out how everything worked: for example how did the PCs work in the den when we did not have any electricity (we used car batteries).
How did you end up working in the area of pervasive computing?
I am excited by ... how clothing, wallpaper, carpets ... can be embedded with computation
I've always loved new technologies and gizmos, ever since setting my eyes on an Apple Mac back in the 80s. A core part of my research is to work out when best to use different kinds of technologies - be it multimedia, virtual reality, animations, mobile computers or pervasive computing - to support different kinds of activities. I think there is much scope for designing multi-touch displays, sensor-based technologies and mobile devices to enable people to learn, work and communicate with one another in exciting new ways.
Where do you get your inspiration/ideas from generally?
I have always been creative, inspired by fiction, nature and other people's ideas.
What current research project by another group do you find inspiring and why?
An area I am excited by right now is smart materials. A number of researchers are looking at how clothing, wallpaper, carpets and other aspects of the environment can be embedded with computation to provide information that pops up or lights up in response to what people are doing. For example, the walls of a house could change colours to reflect the emotional well being of the people living in it at a given time.
What were your favourite subjects at school?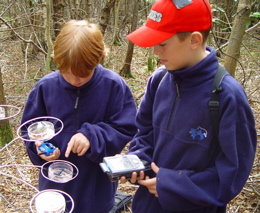 Maths, English and Art.
How did you learn to program?
I learned Pascal and Fortran in my first year at university using those dreadful punch cards. It drove me crazy.
What did you originally "want to be when you grew up"?
A brain surgeon.
Are things like the ambient wood just playgrounds for researchers to try out ideas or will we see more permanent 'playgrounds' like that in the future?
Pervasive technologies are getting cheaper, more robust and easier to program. In the next 10 years, we will begin to see ambient indoor and outdoor environments becoming integrated into nature parks, school playgrounds and museums. Kids will expect it having grown up with technology, and importantly, they can be involved in designing them.
You've probed the woods. Where are you taking pervasive computing next?
I'd like to see kids discover new ways of probing their bodies to find out what makes them tick.