A magazine where the digital world meets the real world.
On the web
In print
What is cs4fn?
Search:
Would you like a free copy of ee4fn magazine?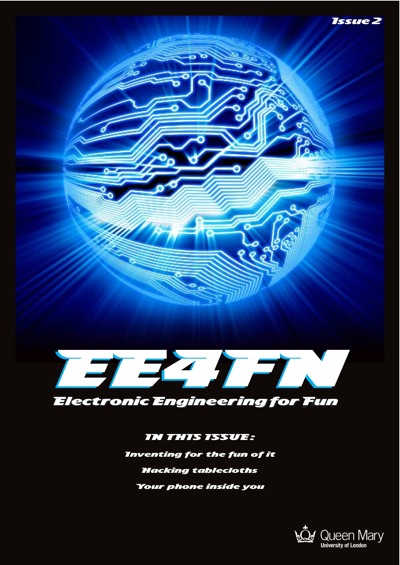 Use the form below (but please check you're eligible first). We aim to produce 1 issue a year.
All articles are available individually online and also are available as a free PDF download here. That way is greener - fewer trees chopped, less transport miles, etc.
Eligibility
ee4fn is free to order for schools and young people in the UK. We can send single copies to individuals or multiple copies to teachers (at school addresses), while our stocks last.
If you would like to tell us what you think of ee4fn and why you want a copy of the magazine, fill in the comments section below. Doing so gives us permission to use your comments anonymously in our evaluation and research about ee4fn's effectiveness. By clicking 'submit' you are confirming you have done so (see 'how we use your data anonymously' below).
Please let us know if you change address or if at any time you no longer wish to receive copies.
For us to send you a free copy YOU MUST FILL IN THE REASON / COMMENT SECTION. For multiple copies you must explain why you need more than one and how they will be used. If you would like multiple copies but do not want us to use your comments for research, that's fine. Simply email your request to cs4fn@eecs.qmul.ac.uk instead of the form.
How we use your data anonymously
We will publish our analysis of the combined anonymised data from the forms returned in evaluation reports and academic papers about the ee4fn project. We will not pass on your personal details to third parties, nor use them for other purposes than to send copies of ee4fn and related material. Data will be stored on password-protected computers or in locked containers. If you are under 16 then you must get the permission of your parent or guardian. By clicking 'submit' you are confirming you have done so.
Check your message before hitting submit. When you hit submit, your request will be sent to us and you will not then be able to change it.