A magazine where the digital world meets the real world.
On the web
In print
What is cs4fn?
Search:
Design your own Mediascape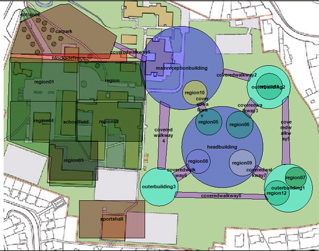 Are you the kind of person the hankers over creating things - maybe its your own music, video games or movies. In the past only professionals had access to the equipment to do that. Computer technology changed that - now just about anyone can set up their own bedroom recording studio, shoot their own movies, or write their own software - if they have the creativity and perseverance to do it.
Things have moved on though. Mediascapes are the future: not just creating digital worlds but mixing the Virtual and the Real into one and already you can join in.
Professor Nigel Smart, Head of the Department of Computer Science at the University of Bristol tells us more.
The Bristol University team, involving Kirsten Cater and Mike Fraser, that have been developing the idea of Mediascapes have decided to help anyone (artists, architects, poets, the elderly, school students and so on) create their own mediascapes, rather than only researchers authoring the experiences.
To try out their authoring software and explore the ideas, our most recent workshop was with a group of pupils from Nailsea School in North Somerset. Nailsea are soon to get a new state-of-the-art school costing several million pounds. Our team took our mediascape software along and set the pupils the task of demonstrating what designs and facilities they would like to see in their new school actually in the space it would be built.
Over 12 sessions, we introduced them to the idea of mediascapes and the authoring software they would be using. They also discussed the different people ('stakeholders') who had a stake in the way the school turned out (e.g. builders, visitors, teachers, students, etc) and what designs and facilities they would like to see in their new school.
They then created their own mediascape to get across the opinions and designs for a particular stakeholder from those identified.
The idea was to see how the pupils would use the software and think about the content and context of the information they were choosing and delivering using their mediascape. It was important to the school to engage its own pupils in what the design of a new school should offer. The mediascapes helped the pupils to show the planners and the school leaders their thoughts and opinions on what the new school should be like by demonstrating different designs on-site.
Want a go at designing a mediascape yourself? You can download our authoring software, designed with Hewlett Packard Laboratories and Futurelab, from www.createascape.org.uk. The software has been designed especially for school students. You might even be able to persuade your teachers to turn it into a fun lesson as there are ideas for them too!