A magazine where the digital world meets the real world.
On the web
In print
What is cs4fn?
Search:
Rules of the GeomLab Competition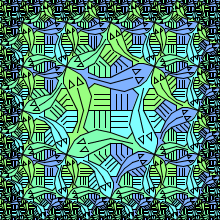 Entries must be received by the closing date: 18 MARCH 2007.
The final picture should be defined with the name "cs4fn" so that by typing cs4fn in GeomLab we will generate your image.
Entries must consist of 3 files: a single GeomLab picture file (.png file) of your picture, the saved session file (.gls file) that created it, and a text file (.txt file) containing the series of commands you typed into GeomLab to create it. The first two files should be saved directly from the GeomLab session using File-Save Picture and File-Save Session, respectively. The latter should just be your record of what you typed into GeomLab.
All entrants must provide their full name, contact email address, age and the school/college name and address they are nominating for the school prize with their entry.
We will not publish or provide your email address or other details to a third party. We will only use the information for purposes directly connected to this competition.
A maximum of four entries per person of different pictures will be accepted.
Entries must be submitted using the official online form. Entries submitted by any other method will not be accepted.
Entries must be received by the stated closing date. Queen Mary, University of London does not accept any responsibility for late or lost entries. Proof of sending is not proof of receipt.
The competition is open to entrants of all ages. Entrants aged under 16 at the closing date must obtain permission from their parent or guardian before entering the competition.
Your entry must be entirely your own work and its originality will be taken into account by the judges. By contributing your work you agree to grant Queen Mary, University of London the right to publish and use the material in all media for all purposes in connection with the competition. See the cs4fn Copyright and Contributions for the full details of rights related to submissions. Please note that entries cannot be returned. You are advised to save a copy before submission.
Prize winners may be asked to take part in post competition publicity.
Only the winners will be contacted personally. The contestants should make no contact with any person at Queen Mary, University of London with regard to the competition. In the event of their being no reply from the email address supplied by the winner, the judges reserve the right to offer the prize(s) to a runner up or withhold it for use in another competition.
Prizes must be taken as offered and cannot be deferred. There will be no cash alternatives.
Players must comply with all rules to be eligible for the prizes. Ineligible entries or entries made fraudulently will be automatically disqualified.
This competition is not open to employees of Queen Mary, University of London or any person directly or indirectly involved in the organisation or running of the competition, or their direct family members.
The competition organisers reserve the right to cancel the competition at any stage, if deemed necessary in their opinion.
Contestants will be deemed to have accepted these rules and to agree to be bound by them when entering the competition.
The decision of Queen Mary, University of London is final in every situation including any not covered above and no correspondence will be entered into.
This agreement is governed by the laws of England and Wales.
This competition is administered by the Department of Computer Science, Queen Mary, University of London.