A magazine where the digital world meets the real world.
On the web
In print
What is cs4fn?
Search:
Read the book, scan the t-shirt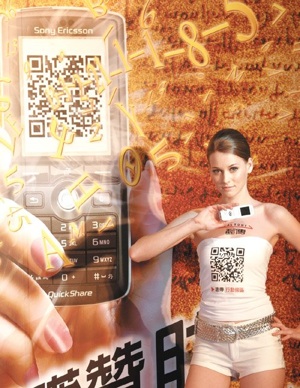 Books are doing something old in a new way. A new wave of authors are sending their books to readers via mobile phones, in instalments. Like the creator of Sherlock Holmes, Sir Arthur Conan Doyle did via The Strand magazine, releasing your work in bits can create a real sense of occasion, tension, and so raise your public profile. But today's mobile phones let this self-promotion go one step further using the clever idea of the QR code.
Originally developed for tracking car parts, a QR (short for Quick Response) code is a two-dimensional barcode.The idea is similar to the one-dimensional barcodes in the shops; these are the tiger striped labels that can be scanned by a laser at the checkout to total our bill. But what can be done in one dimension can be done in two as well, and adding the dimension of height as well as length can increase the amount of information available.
Read all about it
Most mobile camera phones can now automatically read QR codes. The codes are printed in magazines, on signs, buses, business cards and even t-shirts. When you scan the code the information in it can take your phone direct to the product's website. For example in 2008 author Alexander Besher's sci-fi book Manga Man was promoted in Japan with T-shirts emblazoned with QR codes that when read took your mobile to the website to download a chapter. So in the future what you wear could become a doorway to the web. As Holmes might say, "Elementary my dear, what's on?"
Image taken from /Sizemore/'s Flickr photostream.