A magazine where the digital world meets the real world.
On the web
In print
What is cs4fn?
Search:
Autumn 2005/Winter 2006 Limerick Competition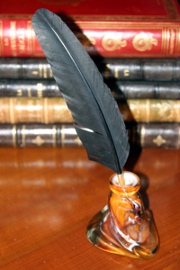 At the start of the autumn we posted the following first line of a limerick and challenged you to complete it.
A computer was heard to complain, ...
Here is the one we decided we like best:
A computer was heard to complain,
I find factoring letters a strain;
It's all 1s and 0s,
I rank as my heroes;
Ran his oftly repeated refrain.
- Paul Mitchell, Florida, USA
One other was specially commended by the judges:
A computer was heard to complain
"You might think you alone hold domain
O'er original thinking
Not the case" it said, winking,
"Though you're right, I am much more left brain"
- Alec Kitson (Costa Rica and Canada, ex-Brit)
We are going to scatter others that we liked around the cs4fn web pages in appropriate places...You have to find them...Thanks to Terry Wilson, Thor, Paul Walters and Jack Rothwell.