A magazine where the digital world meets the real world.
On the web
In print
What is cs4fn?
Search:
The fashion issue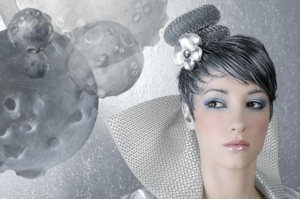 Every day, choosing what to wear gives you a chance to be creative, try on new identities, or at least keep yourself warm and dry. The possibilities don't stop at your closet though. You don't just have to wear clothes – you can wear computers too. Looking smart just got a whole lot smarter.
In this issue you'll find all sorts of ways that computer science can improve your style. You'll read about t-shirt designs made with the help of evolution, a mirror that helps you choose what to wear, and the technology behind Tony Stark's Iron Man suit. Plus we'll get to the bottom (so to speak) of why robots always insist on going naked. The computerised wardrobe of the future contains everything from LED frocks to biomechanical exoskeletons, so take a look inside.