A magazine where the digital world meets the real world.
On the web
In print
What is cs4fn?
Search:
ee4fn Magazine+
Click the magazine cover to get a pdf.
If you would like free printed copies of the latest issue (subject to availability) please let us know using the special form.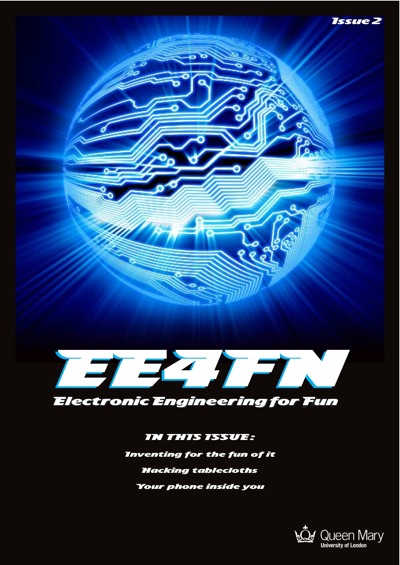 ee4fn is all about the fun side of electronic engineering and physical computing. In this issue we explore surprises, cyborgs, speed and sudoku. We look at how ordinary objects can be hacked into surprising interactive things, and how your home may be being snooped on in a surprising way. We also look at how researchers are taking the first steps towards a cyborg future. We explore how the problems of building ever faster and cheaper computer chips have been overcome and how communication satellites can be sped up with a little help from Sudoku puzzles.
We also look at legendary engineer Claude Shannon who embodies what ee4fn is all about – inventing for the fun of it.
The modern world is completely dependent on electronic engineering and physical computing. Gadgets fill our kitchens and our living rooms. We carry them in our pockets and they run our cars and trains. Increasingly they are gaining senses so they know about the world around them, and are becoming increasingly intelligent. Someone of course has to come up with the ideas, solve all the practical problems and actually make it work. That takes creativity and an ability to solve problems as well as technical engineering skills. Electronic Engineering isn't just about gadgets though, but also about the invisible infrastructure that those gadgets depend on the mobile phone networks and the Internet, satellites and antennas, for example.
ee4fn is all about electronic engineering, computer hardware and physical computing. It's the place to be if you want to build things to solve problems or just for the fun of it. It's also the place to be if you want to make the world work better and so change the way we all live our lives. It s about building things with intelligence!
Invent a new way. Read on.