A magazine where the digital world meets the real world.
On the web
In print
What is cs4fn?
Search:
COMPETITION WINNER: From Alice to Genes
How do you get from Alice in Wonderland to Genes?
Aisha Schofield of Harris Academy in Dundee is the winner of the cs4fn Science Week "Alice to Genes" challenge.
ALICE In Wonderland was written by Lewis Caroll. He also invented a puzzle that appeared for the first time in Vanity Fair Magazine in 1879. Think of two words, like ALICE and GENES. You have to construct a sequence of actual words starting from the first word and ending with the second. The tricky bit is that no two consecutive words in your sequence can differ by more than one letter. ALICE, SLICE, SPICE, ..., eventually get to GENES and you have found a link.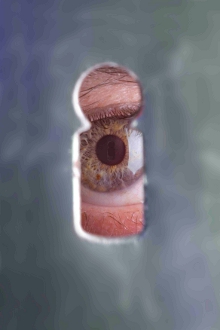 A different sort of link is via some Computer Science. 74 years after Lewis Caroll's puzzle Frank Gray patented something called Gray Code - a way of counting in binary where only one digit changes at a time. This is a really useful way of representing information as it turns out you can use it for spotting and correcting errors in things like digital TV images when the pictures the binary represents are replicated around the world. Binary is used by computers to store and replicate information. DNA is similarly a biological mechanism for storing and replicating information. It makes use of sophisticated ways of catching and correcting errors in the information...and the information DNA molecules represent are our GENES.
Aisha's Winning Sequence
ALICE
SLICE
SLIME
SLIMS
SLITS
FLITS
FLATS
FEATS
TEATS
TENTS
VENTS
VENUS
GENUS
GENES
The Competition Challenge
The challenge was to come up with a sequence of words starting from ALICE and ending with GENES as in the Lewis Caroll puzzle. All words had to be English words. Consecutive words had to differ by only a single letter.
Prizes
Aisha won a book voucher prize of &pound 100 donated by Intel as well as an iPod nano donated by ARM. She also wins more voucher prizes for her school.