A magazine where the digital world meets the real world.
On the web
In print
What is cs4fn?
Search:
Pre Vu
With perserverence and some business and technical savy simple ideas can become award winning inventions as Morag Hutcheon has shown.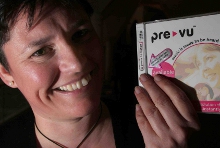 She had the idea that when buying music in a store it should be possible to listen to the CD first. Turning her idea into reality took time though and only became possible when solid state digital answering machine technology made the cost of producing it commercially acceptable. She also needed to develop a customised chip. That was out of the scope of her own skills, so she hired a specialist team to do it for her. The final result was Pre Vu.
Pre Vu is integrated into the spine of a standard CD case and allows up to 60 seconds of audio content to be sampled. A personal message can also be added, for example when sending the CD as a gift, or for advertisement purposes. Morag's invention includes the total solution: both the software for compressing the selected audio files and the machinery to upload the samples.
As a result in February 2006, Morag was named the British Female Inventor of the Year 2006, at the British Female Inventor and Innovation Network Awards, now in its seventh year. If you (or your mum!) are an inventive or innovative woman, you too can have your creative output nominated for these annual awards. For more information check www.gwiin.com.