A magazine where the digital world meets the real world.
On the web
In print
What is cs4fn?
Search:
Hollywood beckons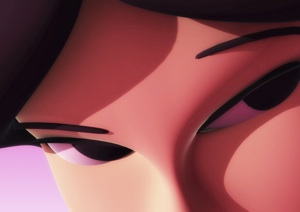 Why not kick-start your film career the computer science way by creating a computer animated short? There are several packages (even some free ones) that make it easy to create simple computer-animated cartoons. When Walt Disney started out, the animators had to draw every frame of a cartoon individually by hand. Now, if you are willing to teach yourself some simple programming skills, you can focus on the creative, fun parts rather than having to draw the same thing over and over, thousands of times for a few seconds of film.
Programmed animation skills are clearly thriving as shown by the annual University of Manchester Animation competition. Over 1,300 shorts were entered in the 2010 competition, which was funded by Electronic Arts and Google. Prizes were awarded to more than 50 students at The Lowry in Salford Quays.
This year the overall EA "Hollywood beckons" Award went to KS4 entrant Hal Coley of Bosworth Community College, Leicester. All the judges agreed that his entry "Success" was the well-deserved winner and Hollywood really does beckon! His short impressed because he had a strong storyline, he used lots of different scenes and shots to tell the story and the detail in his drawings was stunning.
This year's cs4fn prize was for the cartoon that we thought was most inspirational. It was won by Ellen McLean from the High School of Dundee for her animation 'Life as a boring piece of paper' with its upbeat message that by thinking positively you can do well in life, even if things don't go exactly to plan.
Next year the Manchester audience could be watching your animated short as you go up to receive a prize. You need to come up with a good storyline, add a sense of humour or a serious message, then put in the time to flesh out all the detailed drawings and program the animation and you are there. What makes a good storyline? Well, one technique recommended by filmmakers is to think of it in a series of stages. You start by setting the scene. Things then start to develop, but a complication arises. Eventually everything starts getting sorted out until finally the story is resolved. Watch the winning entries from previous years and see which follow some, or all, of this pattern.
Most of all with filmmaking, once you've understood the basics, it's the amount of effort you put in refining your skills that matters. Given both filmmaking and programming are lots of fun you can have a great time taking part and learning some useful skills along the way, win or lose.
For more about the animation competition, how to enter and to see the videos go to the website.