A magazine where the digital world meets the real world.
On the web
In print
What is cs4fn?
Search:
Robot Road Run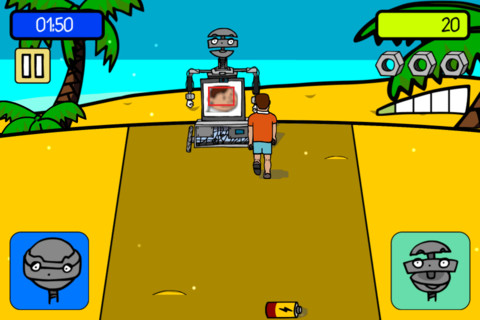 Here's a fun, free iPhone app in which you are an robot racing down a road. In Robot Road Run it's up to you to stay away from objects and people as you zoom along, collecting bolts and batteries.
You play FLASH, an emotional robot. You need supplies to keep yourself running, so you go down the road in search of building materials and power. As long as you stay clear of obstacles and play nicely with the humans you meet, you do well. Each level gets a little bit harder as you do well.
This game is brought to you by the LIREC project, which is developing emotional robots in real life. In fact, the robot you play in the game is the real robot they are building. They hope their real-life FLASH will be so good that it could be your friend in the future. But in the meantime, you can have lots of fun playing the game.
You'll find Robot Road Run in the App Store on your iPhone. But there is more information on the web too!